Shopping tours in Rome, what more could we ask for? It's simple really, you ask for the best showrooms, the most luxurious jewelry, and the best tailor to fit your clothing so that you can look like a star on the red carpet. At artist workshops, you can paint, sculpt, and draw things that are only seen all together in one place, in Rome. This city is the destination to find gifts for your friends, relatives, and loved ones. You can purchase anything here that you could buy similar at home, but why? Design and modeling for a local Italian market is different, and it's from Rome! Indulge!
Rome is as Rome is. Great sights, and great shops. If you've already been to the  city center, then you know that the shopping in here will let you find things you would never be able to buy at home.
Rome Shopping Tour: Dream of a Shopaholic
Deluxe Limo Italy can take you on the shopping vacation of your dreams, so when in Rome: shop.
If you are a shopping nut like many, we would like to invite you to try out the Via Condotti. It's a busy place and one of the most upbeat, and delightful Roman streets you may have ever seen. Rome based fashion retailers flourish near the Spanish Steps, a part of the city that you will surely not miss on your tour.
While completing your list of the places to go for shopping, you can travel to the Via Condotti fashion street with designer retailers waiting for you with names like Valentino, Armani, Christian Dior, Celine, D&G, Prada, Louis Vuitton, Alberta Ferretti, and many more.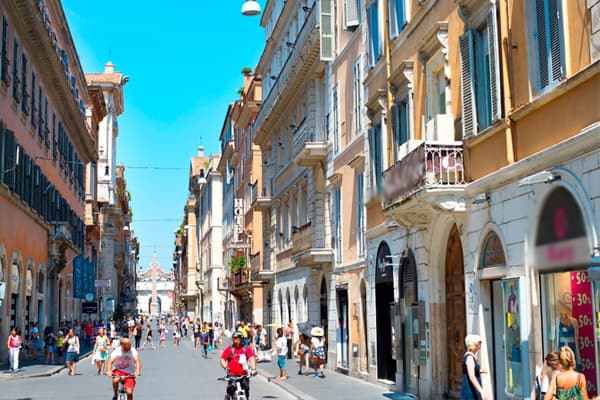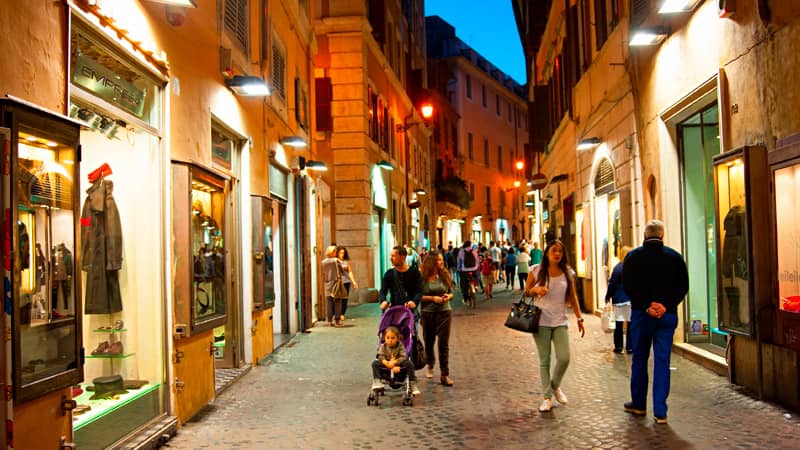 Keep shoping to find shoes, dresses, suits, and a tailor to fit it on you right there in the boutique. Simply make arrangements with your chauffeur. He can arrange whatever your heart's desire.
If you wish to have a more professional approach with in depth knowledge of the marketplace, we can provide a specialized private personal shopper that would be a particularly "on target" to make of your shopping tour in Rome an adventure. Your personal shopper can take you to the most wonderful artisan workshops, or Italian vintage boutiques. Local traditions and culture will surround you as you look around finding items and clothing genuinely Made in Italy.
With Deluxe Limo Italy, you can always ask your driver to take you to the district of Monti. If you like rare vintage things from the last century, you're going to love this. In that same area, there are notable antiques shops, and different kinds of craft stores to find all of your favorite accessories for your jewelry enthusiasm. Retro clothing, and more items to match them can also be found there. In this neighbourhood you may also find art galleries specializing in rare paintings created by the hands of local artists.
Having a Bite During Rome Shopping Tour
When you are on your shopping tours in Rome and you're hungry, ask your driver to take you to the best choices of local cuisine. Huge and historic food markets like Campo de' Fiori are open and ready to sell fresh fruits, vegetables, wonderful spices, fresh fish, herbs, meat, and never forget the cheeses with their different tastes and aromas. After taking part in inspiring delights, you can enjoy having them cooked and transformed into great dishes by a nearby restaurant or trattoria.
Deluxe Limo Italy and their travel team can help you arrange a perfect vacation, making it a flawless and seamless journey. Book your tour now and get the best of Italy!
You may also like:
Rome car service
Naples car service
Chauffeur-driven cars in Italy: Why you need it

Testimonials
I just wish to send this message to you to let you know that we had a blast today in Rome with our driver and our guide! We are very very pleased with your service and would be more than happy to spread out the words for your company in any way that I may!

Miami

I just wanted to thank you for all your help. Your company far exceeded our expectations! Every single aspect of our trip was stress free and so much fun! 23 days is a long time and there was not a single tour or transfer that we didn't enjoy.

London

I am speechless of how wonderful our trip was. Honestly it was the best experience of our lives. We can't wait to go back! I cannot thank you enough for all that you did to make our vacation the most luxurious and smooth trip of our lives!

New York

I am writing to you to thank you for making our trip such a memorable one. We are talking of it all the time! It was your resources and guidance that gave us an in-depth insight into your rich country in terms of history, architecture, good food etc. The driver / guides, the guides etc. were all superb. We are ready to turn right back to Italy!

Los Angeles
Tripadvisor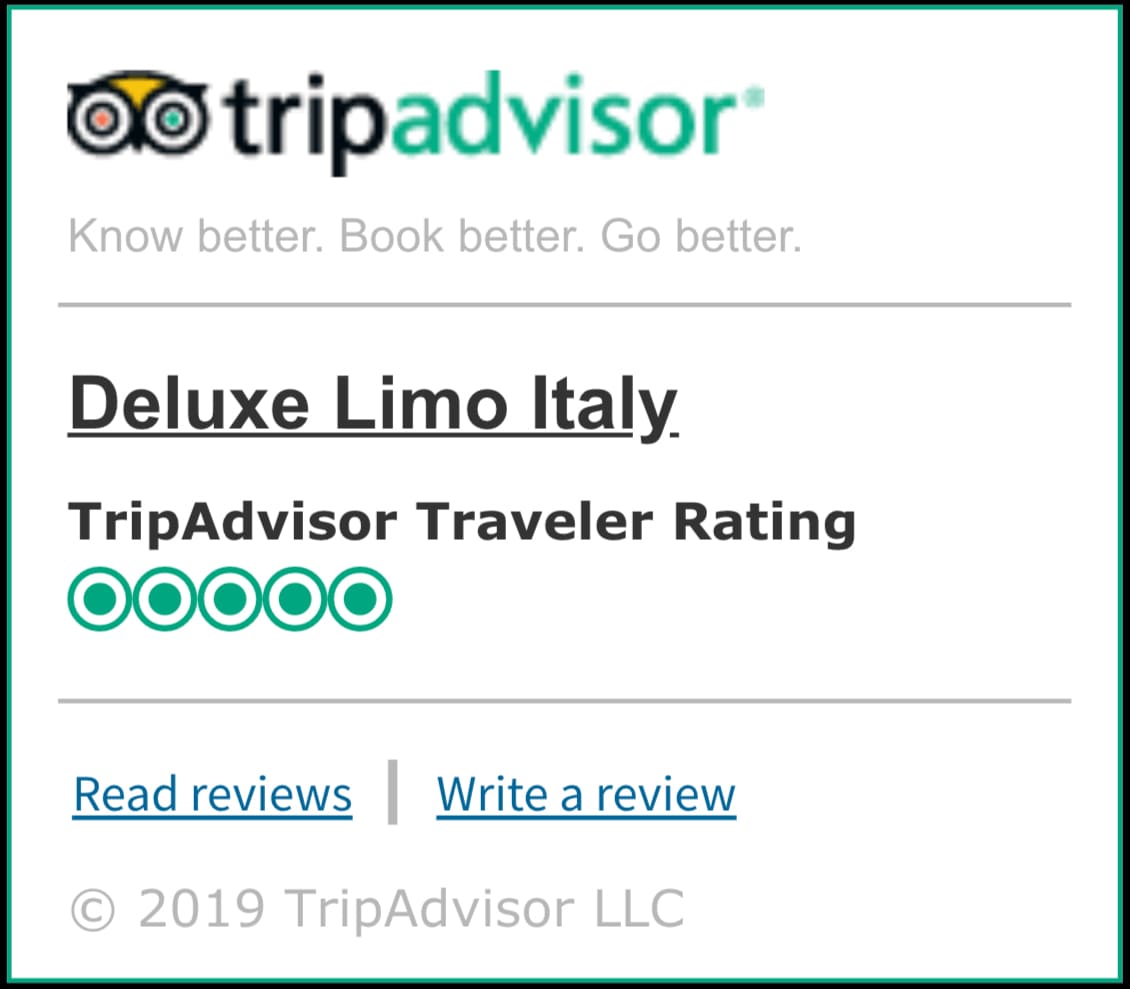 Why choose our Limousine service
Our mission is to provide unparalleled travelling experiences by combining reliability, precision and efficiency with the typical Italian passion, creativity and insight. With 25 years' experience in the travel industry, we observed the performance of over 350 chauffeur companies in Italy and partnered with those that demonstrated very high service standards. When the array of ideal affiliates was completed, Deluxe Limo Italy was finally launched. Our Limousine service network covers the totality of the Italian territory from the Alps to the "tip of the boot" and arranges private driver services in every main city of Italy as well as at every airport. On the contrary of the current trend "go global", we dedicated our energy to specialize in operating exclusively in Italy where logistics and business approach greatly differ from region to region, so as to offer top level service to our customers throughout the whole country.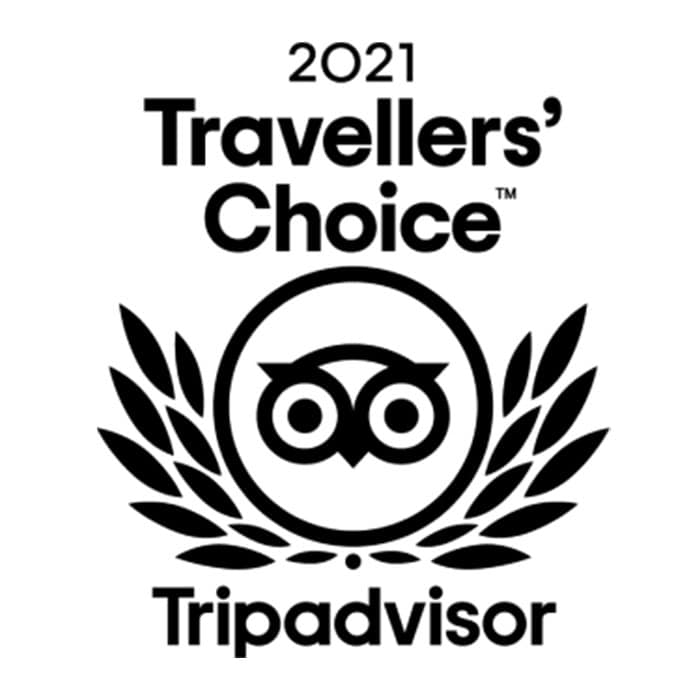 DESIGN YOUR PERFECT ITINERARY WITH DELUXE LIMO ITALY TRAVEL TEAM