Rome Fiumicino Airport Limousine Transfer
When you come to Italy, Deluxe Limo Italy can arrange smooth ground transportation between all your destinations. Rome is usually the landing destination of most tours in Italy, and having a high quality, reliable private Rome airport transfer is the right way to start your vacation or business trip.
Driver for Your Rome Fiumicino Airport Transfer
Our drivers are the most important assets in our business. They are professional, well mannered, and know all areas of the territories they drive into.
Our Rome Airport Car Service Vehicles
For your private transfers, Deluxe Limo Italy provides the finest of vehicles at your disposal. Recent Mercedes-Benz vehicles are the minimal guaranteed standard when you choose our company's travel team. Each limo is an average of 2 years old, maintained with professional and constant upkeep to make sure that every tour and ride is smooth and uninterrupted. All our vehicles are properly licensed, and registered for chauffeured service.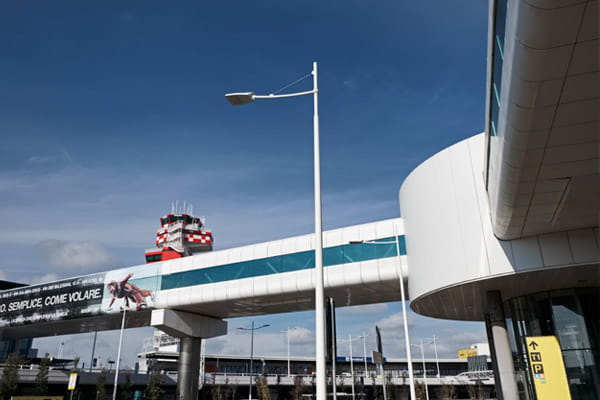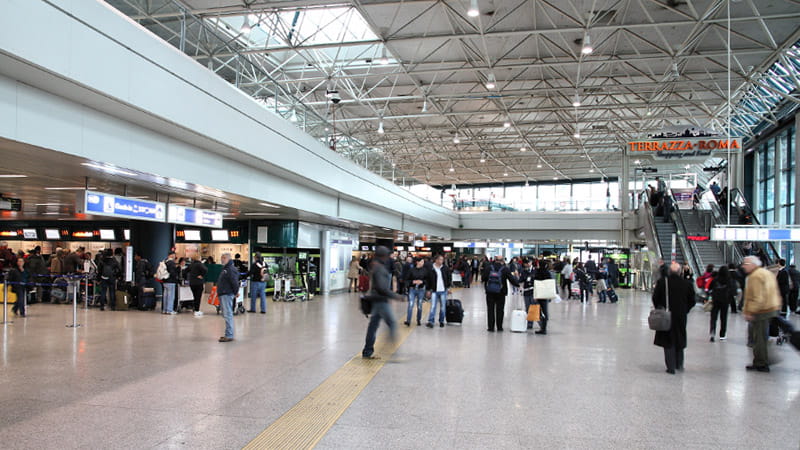 Fleet of Excellence for the Rome Airport Transfers
Picking you up on your Rome Fiumicino airport private transfer, you can expect the top quality service. Our fleet is ready and waiting with some of the best vehicles on the market.
Executive Sedan: Mercedes "E Class" / 3 Passengers
A full size sedan would be an ideal business travel choice if you need executive transfers with comfort and style. This car is built for not only class, but it's ability to keep guests feeling secure and comfortable.
Luxury Sedan: Mercedes "S Class" / 3 Passengers
The specific design in this vehicle is known world wide as swift, and smooth on the road. The safety built into this vehicle has been known by royal families, and top business travelers alike The element of originality, and car frame safety technology is designed right into the comfort areas. The Mercedes S Class vehicle is designed for the upper class types of travelers, and we bring it to you as a great image maker while you're here in Italy.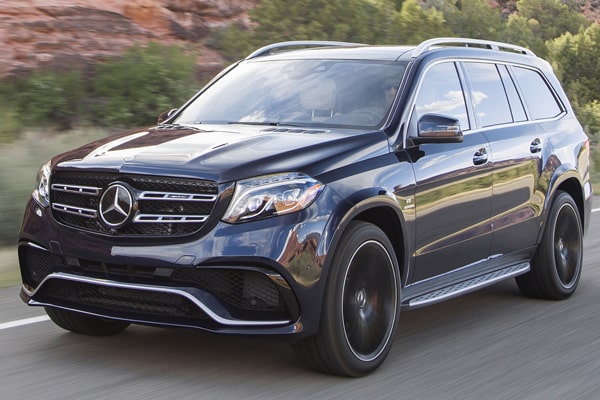 Luxury SUV: Mercedes GLS / 6 Passengers
This custom built SUV provides the room need to stretch and be comfortable. It has a great reputation on the market for a standard of safety and comfort with a close competition standard to the S Class. One thing that out competes the S Class is its capacity for luggage, and "stretch ability".
Deluxe Minivan: Mercedes "V Class" / Up to 7 Passengers
The more attractive Minivan in the European vehicles marketplace this is the only minivan type used by our elite limousine network. Mercedes-Benz has built into this vehicle the element of comfort, design and elegance. It's built in three different sizes: compact, long, and extra long, 90% of our units are Extra Long 7 passengers versions.
Amenities include:
Capacity: 4 to 8 sets of luggage (Depending on their size)
Electric doors
Leather Seats
Double Air Conditioning
Refrigerator
Deluxe Minibus: Mercedes Sprinter / Up to 8 Passengers
The well-built for comfort Mercedes Sprinter is one of the best choices on the market if you're looking to travel heavily, and not sacrifice style and comfort. This minibus can give the freedom of getting up and walking through it to get what you need. The capacity to carry luggage for the "Long" model is 10 full size suitcases. The capacity in an extra long model is 24 full size suitcases.
Deluxe Limo Italy uses 2 Sprinters both a "Long", and an "Extra Long". each containing:
Reclining leather seats
Double Air conditioning
Refrigerator
Electric doors
Book your Rome Fiumicino airport limousine transfers with Deluxe Limo Italy and enjoy Rome from the first minutes being here!
You may also like:
Florence airport transfers
Testimonials
I just wish to send this message to you to let you know that we had a blast today in Rome with our driver and our guide! We are very very pleased with your service and would be more than happy to spread out the words for your company in any way that I may!

Miami

I just wanted to thank you for all your help. Your company far exceeded our expectations! Every single aspect of our trip was stress free and so much fun! 23 days is a long time and there was not a single tour or transfer that we didn't enjoy.

London

I am speechless of how wonderful our trip was. Honestly it was the best experience of our lives. We can't wait to go back! I cannot thank you enough for all that you did to make our vacation the most luxurious and smooth trip of our lives!

New York

I am writing to you to thank you for making our trip such a memorable one. We are talking of it all the time! It was your resources and guidance that gave us an in-depth insight into your rich country in terms of history, architecture, good food etc. The driver / guides, the guides etc. were all superb. We are ready to turn right back to Italy!

Los Angeles
Tripadvisor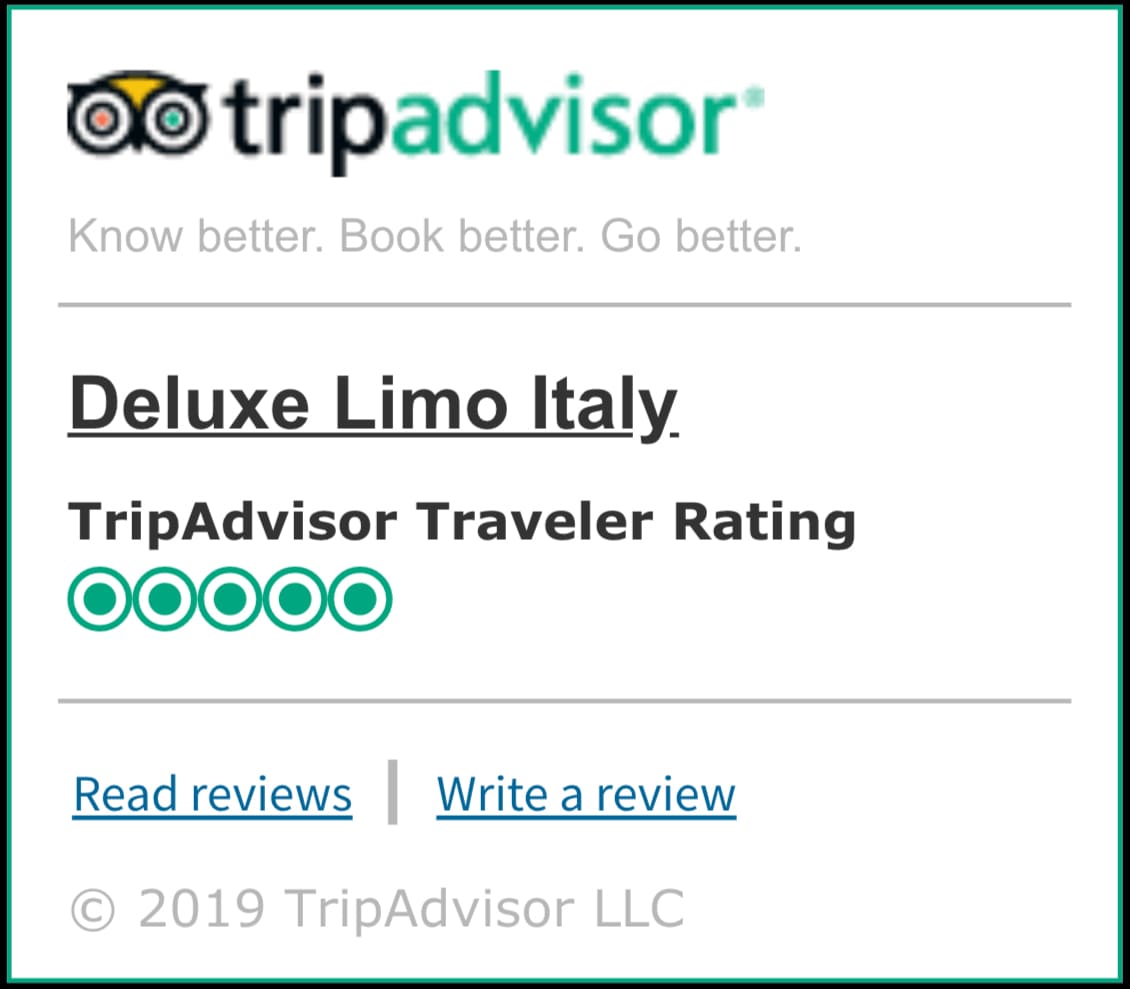 Why choose our Limousine service
Our mission is to provide unparalleled travelling experiences by combining reliability, precision and efficiency with the typical Italian passion, creativity and insight. With 25 years' experience in the travel industry, we observed the performance of over 350 chauffeur companies in Italy and partnered with those that demonstrated very high service standards. When the array of ideal affiliates was completed, Deluxe Limo Italy was finally launched. Our Limousine service network covers the totality of the Italian territory from the Alps to the "tip of the boot" and arranges private driver services in every main city of Italy as well as at every airport. On the contrary of the current trend "go global", we dedicated our energy to specialize in operating exclusively in Italy where logistics and business approach greatly differ from region to region, so as to offer top level service to our customers throughout the whole country.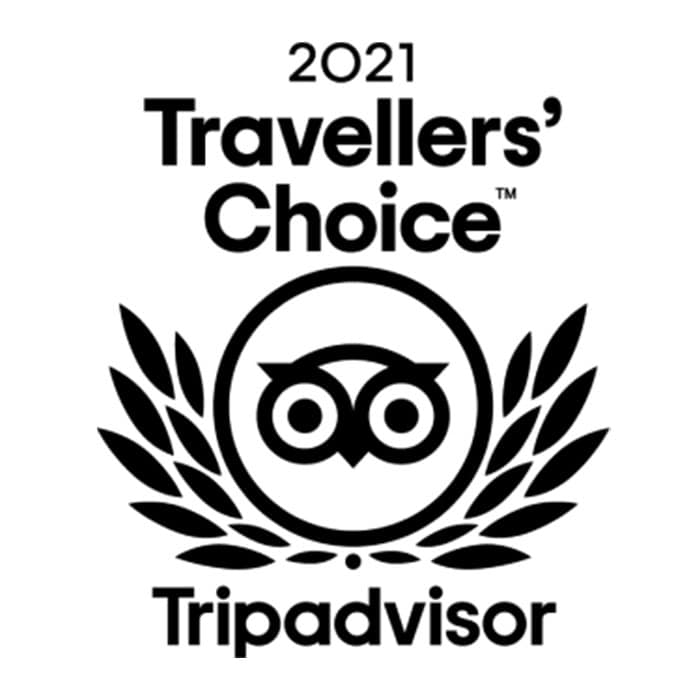 DESIGN YOUR PERFECT ITINERARY WITH DELUXE LIMO ITALY TRAVEL TEAM