Private Driver in Tuscany
Car Service with Private Driver to Explore Tuscany
What are the biggest advantages of having a private driver and a comfortable vehicle at your disposal when you are on vacation in Tuscany that is considered one of the most beautiful Italian region? The answer is easy: we will give you excursions to Tuscany's unique landscapes, its medieval heritage, Renaissance architecture, and traditional trattorias offering delicious local cuisine that have been attracting people from all over the world. There are many ways to explore this fantastic region. We offer our clients the best sites, providing top services and travel comfort.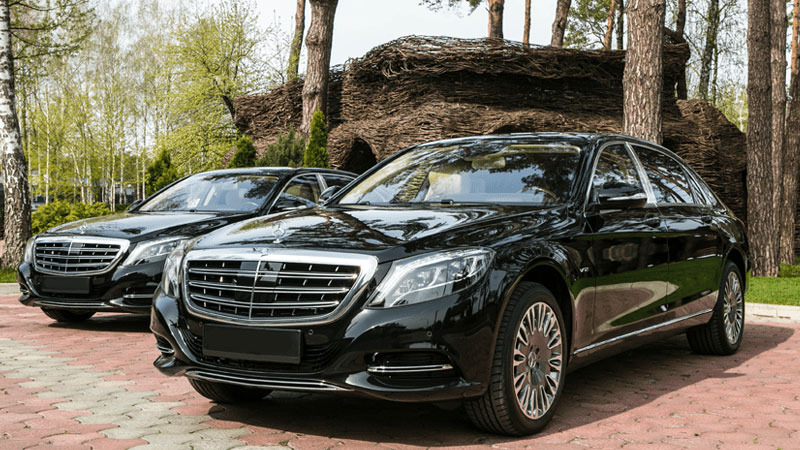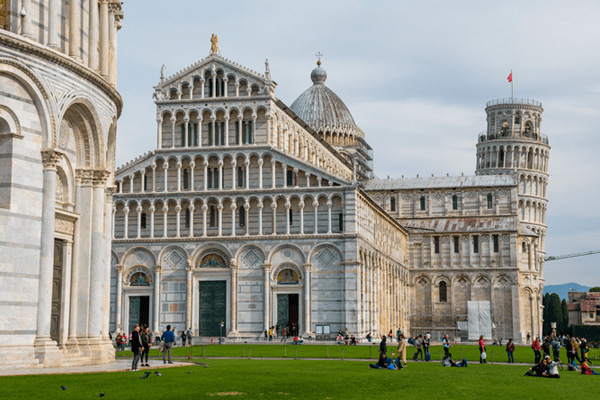 Composition of our Tuscany car service
We see it this way: luxury vehicles, professional chauffeurs, competent customer service, privacy and safety.
Deluxe Limo Italy has a brand-new fleet of Mercedes vehicles, that are combined with impeccable design and latest technologies making you feel relaxed and safe on the road.
To make your private car service unique, all our chauffeurs are perfectly oriented in the area of Tuscany. They have enough technical skills and knowledge not to be take by surprise in any type of situation. All of them speak fluent English and some command a second language such as Spanish, French, Russian and German.
Our emergency phone number is available for our clients 24/7, so that you can always contact us in case you need some assistance while travelling with us.
Private Driver in Tuscany for Exclusive Tours
Once you decide to visit Tuscany we invite you to choose one of our customized tours where you will see the most interesting and important areas of the region, enjoy stunning landscapes and taste its sophisticated local cuisine, and noble wines traveling around in a comfortable limousine.
For this service Deluxe Limo Italy highly recommends booking a driver guide who will explain you everything about the area without overloading you with too much encyclopedic information and boring details.
What is Tuscany About?
On your particular vacation, you'll find that Tuscany is the real treasure chest of Italy. It's a land of gem-cities as Florence, hometown of Michelangelo, Botticelli, Raphael; Siena with its Palio; aristocratic Lucca; Pisa known for its leaning tower; San Gimignano, the town of medieval skyscrapers. It's really an all abounding city with world famous historical sights and architectural masterpieces.
On any one of our private tours, you'll find that Tuscany is a quite unique region with its rich and numerous medieval villages, hill towns and perfectly preserved castles, it makes you feel like you're back in time. Almost as if you could believe that you could see the existence of noble knights and princesses.
After a long walk around, you may start feeling hungry. You private driver will take you to some of the top restaurants with panoramic view in this area where you will enjoy the hospitality of local people and taste delicious local food, and sip some noble wine.
Car rental with a private driver for wine and food tasting in Tuscany
Deluxe Limo Italy will take you to the Italian wine production leaders famous for their Chianti Classico, Super Tuscans and other exclusive labels. Touring around this area would not be complete without wine tasting. You can learn an appreciation of the top quality arena of this hypnotizing drink and winemaking tradition of local vineyards.
Your tailor-made vacation can take you to the best food. For the gourmets, we suggest food tasting provided by the top manufacturers of salamis, cheeses, pasta, chocolate etc. Tasting is only one option for these delicious products. You'll also discover the antique recipes carefully preserved by the manufacturers over the centuries, see how the cold cuts are being made and enjoy the warmth of the local people and the authentic Tuscan atmosphere.
Those with a sweet tooth will definitely ask their driver to bring them to the Chocolate Valley, the area where this really magic product is being made. Smell, eat, enjoy top quality chocolate, have fun and feel like a child again during your adventure around the factory!
Tuscany private driver services are meant to make you fall in love with this incredible region and our company. Contact us today and our travel consultants will help you design a perfect itinerary for your exclusive vacation.
Testimonials
I just wish to send this message to you to let you know that we had a blast today in Rome with our driver and our guide! We are very very pleased with your service and would be more than happy to spread out the words for your company in any way that I may!

Miami

I just wanted to thank you for all your help. Your company far exceeded our expectations! Every single aspect of our trip was stress free and so much fun! 23 days is a long time and there was not a single tour or transfer that we didn't enjoy.

London

I am speechless of how wonderful our trip was. Honestly it was the best experience of our lives. We can't wait to go back! I cannot thank you enough for all that you did to make our vacation the most luxurious and smooth trip of our lives!

New York

I am writing to you to thank you for making our trip such a memorable one. We are talking of it all the time! It was your resources and guidance that gave us an in-depth insight into your rich country in terms of history, architecture, good food etc. The driver / guides, the guides etc. were all superb. We are ready to turn right back to Italy!

Los Angeles
Tripadvisor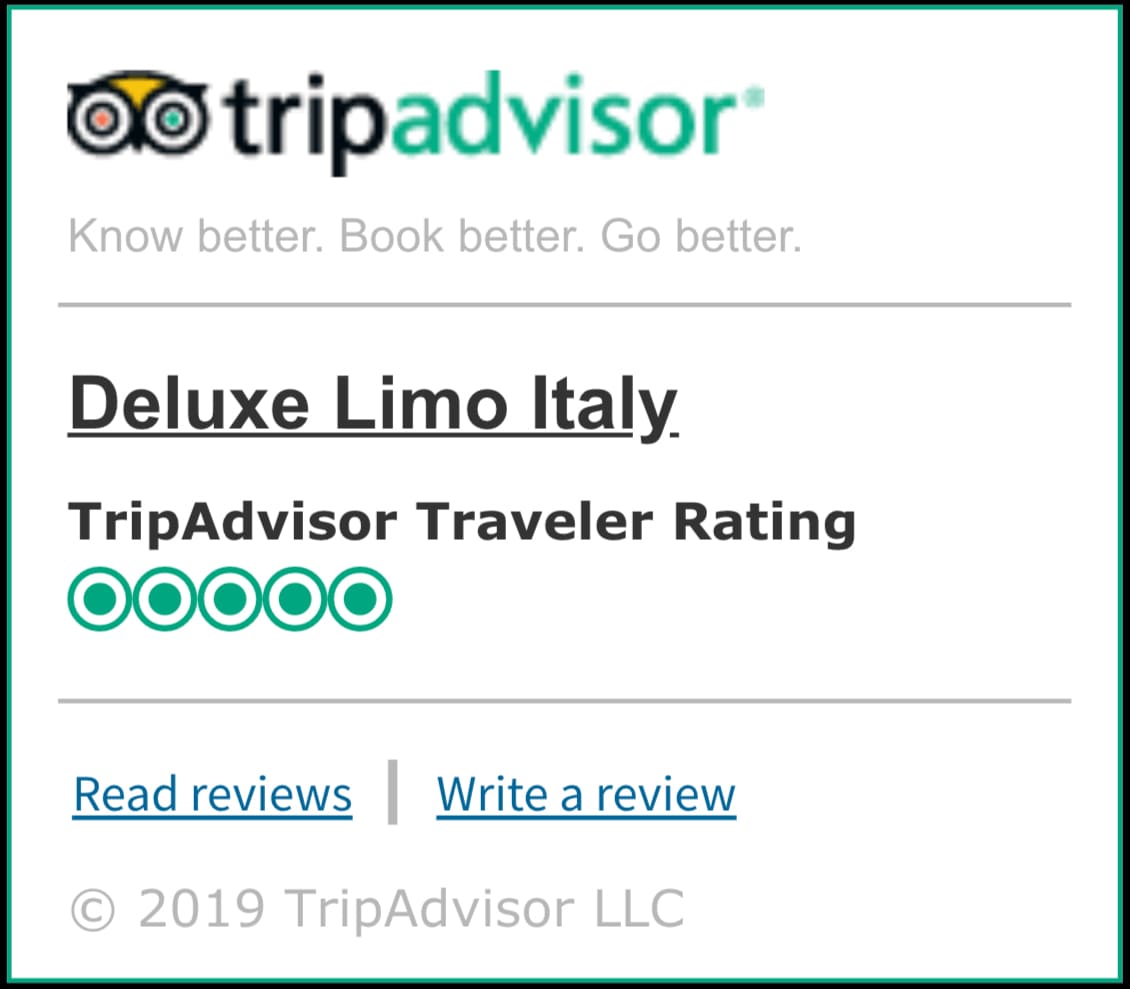 Why choose our Limousine service
Our mission is to provide unparalleled travelling experiences by combining reliability, precision and efficiency with the typical Italian passion, creativity and insight. With 25 years' experience in the travel industry, we observed the performance of over 350 chauffeur companies in Italy and partnered with those that demonstrated very high service standards. When the array of ideal affiliates was completed, Deluxe Limo Italy was finally launched. Our Limousine service network covers the totality of the Italian territory from the Alps to the "tip of the boot" and arranges private driver services in every main city of Italy as well as at every airport. On the contrary of the current trend "go global", we dedicated our energy to specialize in operating exclusively in Italy where logistics and business approach greatly differ from region to region, so as to offer top level service to our customers throughout the whole country.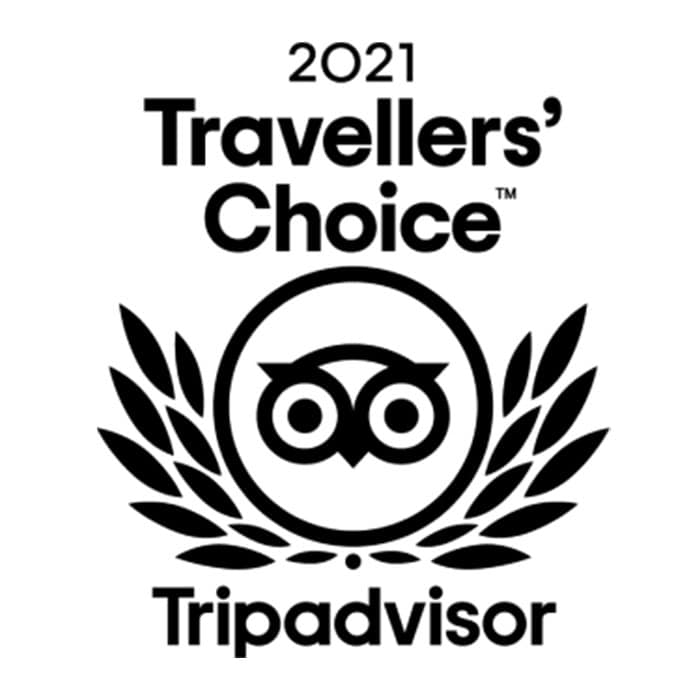 DESIGN YOUR PERFECT ITINERARY WITH DELUXE LIMO ITALY TRAVEL TEAM