The reason you need a private tour in Rome, is because this is one of the most astonishing cities not only in Italy and Europe, but in the world. Rome has an incredibly long history, and by far the largest and richest historical center on the planet, attempting to cover it all in one or two days would be a serious underestimation. Deluxe Limo Italy gets you there!
Private Tour to Explore Rome
When in Rome, do as the Romans do! So do get in the company of your local guide for a private excursion and enjoy the best of the city.
No matter if you are a family, a couple, or a group of friends, we know what to offer you. On your vacation with us, you'll be experiencing Rome at your own pace: walking, or touring in a chauffeured vehicle, or in a golf cart and a professional guide – you'll get what you want from this day.
Things to See on Rome Private Tours
All of our private tours in Rome are made up according to our clients' wishes, interests, and preferences. Deluxe Limo Italy will show you places you will like. We can go to Galleria Borghese, which is a real gem to see in the city. The locals say it's Rome itself. In this gorgeous villa, you'll observe the best of Italian aesthetic: from the antiquities to the baroque style.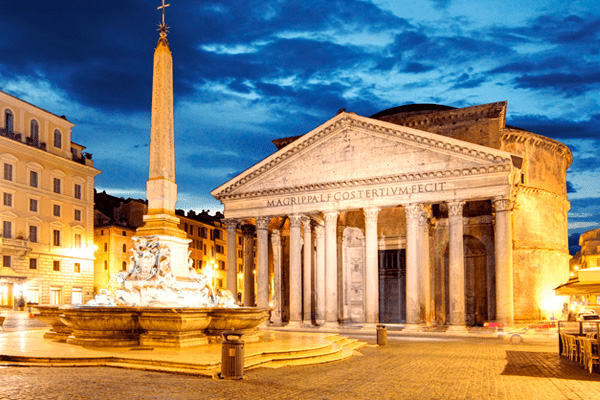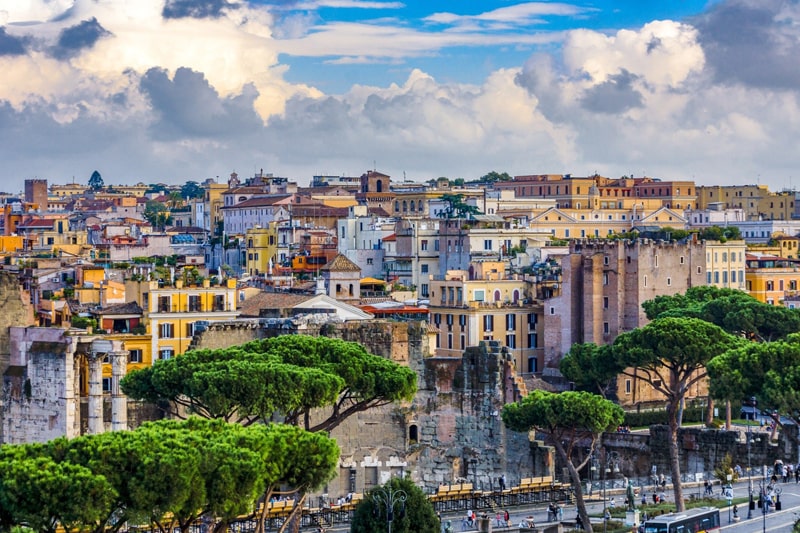 You surely shouldn't miss St. Peter's Basilica on your excursion. It's the center of Roman Catholicism, and energy permitting, go up the 323 steps to the top of its dome to enjoy the architecture and enchanting views of the city. Those who prefer a fast climb can take an elevator.
Pantheon is definitely a must see sight when in Rome: it's one of the oldest and perfectly preserved buildings in the city, constructed in 120 A.D. Its proportions are truly amazing! The famous painter Raphael is buried here. Deluxe Limo Italy can show you the majestic Colosseum, fascinating Sistine Chapel and many other local attractions.
Food to Taste During Private Tours in Rome
There are so many tasty things prepared according to the original Roman recipes, such as Carbonara or Amatriciana. It would be such a shame to be in the city and miss them. You'll have a chance to taste famous crispy deep fried artichokes, which are usually found in the Jewish quarter. Don't forget about fresh Roman pizza, which differs from the original Napoletana with its thin and crispy crust. You may also try porchetta, which is the roasted pork, seasoned with garlic and rosemary. Of course, your last stop should be mouthwatering gelato or grattachecca, the typical shaved ice flavored with syrup.
It's only a short list of things we can offer you to see and do on our private tours in Rome. Get your personal guide, who'll show you the most wonderful parts of the city and make your day truly special!
You may also like:
Rome car service
Naples car service
Chauffeur-driven cars in Italy: Why you need it

Testimonials
I just wish to send this message to you to let you know that we had a blast today in Rome with our driver and our guide! We are very very pleased with your service and would be more than happy to spread out the words for your company in any way that I may!

Miami

I just wanted to thank you for all your help. Your company far exceeded our expectations! Every single aspect of our trip was stress free and so much fun! 23 days is a long time and there was not a single tour or transfer that we didn't enjoy.

London

I am speechless of how wonderful our trip was. Honestly it was the best experience of our lives. We can't wait to go back! I cannot thank you enough for all that you did to make our vacation the most luxurious and smooth trip of our lives!

New York

I am writing to you to thank you for making our trip such a memorable one. We are talking of it all the time! It was your resources and guidance that gave us an in-depth insight into your rich country in terms of history, architecture, good food etc. The driver / guides, the guides etc. were all superb. We are ready to turn right back to Italy!

Los Angeles
Tripadvisor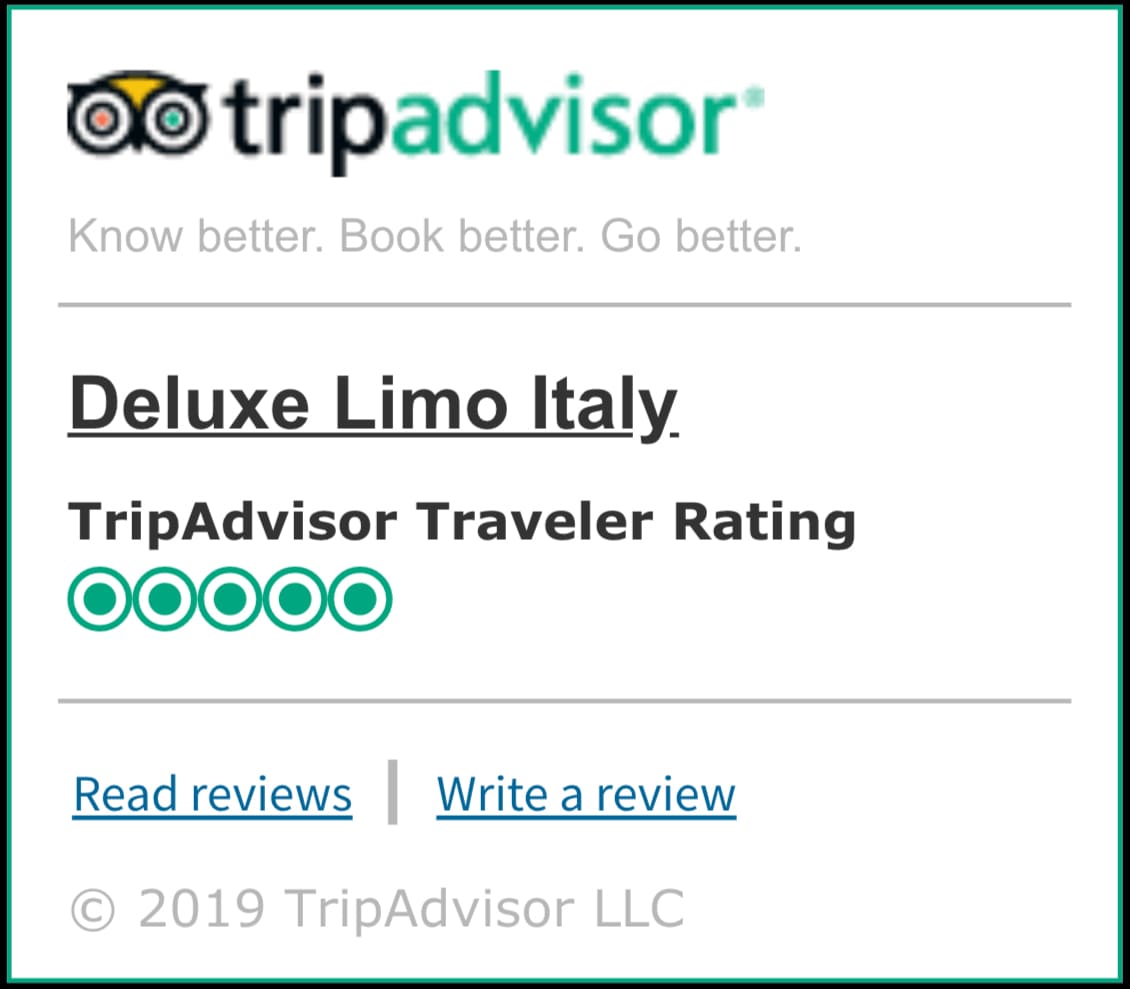 Why choose our Limousine service
Our mission is to provide unparalleled travelling experiences by combining reliability, precision and efficiency with the typical Italian passion, creativity and insight. With 25 years' experience in the travel industry, we observed the performance of over 350 chauffeur companies in Italy and partnered with those that demonstrated very high service standards. When the array of ideal affiliates was completed, Deluxe Limo Italy was finally launched. Our Limousine service network covers the totality of the Italian territory from the Alps to the "tip of the boot" and arranges private driver services in every main city of Italy as well as at every airport. On the contrary of the current trend "go global", we dedicated our energy to specialize in operating exclusively in Italy where logistics and business approach greatly differ from region to region, so as to offer top level service to our customers throughout the whole country.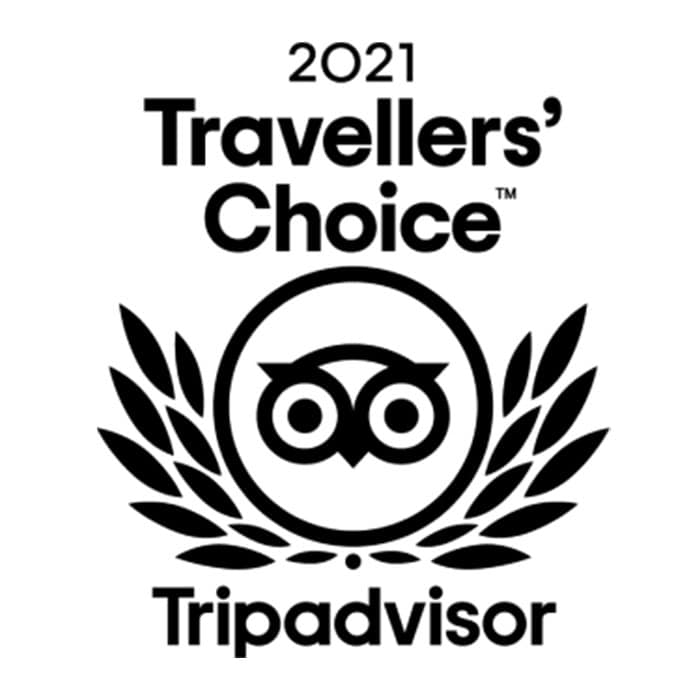 DESIGN YOUR PERFECT ITINERARY WITH DELUXE LIMO ITALY TRAVEL TEAM