A less known Italian city of Genoa is however the sixth largest city in the country with its more than 600.000 inhabitants. This stunning Unesco World Heritage Site, a birthplace of Christopher Columbus and the European Cultural Capital in 2004 is just waiting to be discovered. Like many of Italy's biggest cities, Genoa is full of Art, Antiquity, Fashion clothing and goods. As far back as the 14th century this city had already been one of the leading producers of silk and highly acclaimed velvets in Europe. Countless old shops can be found in the Old Town of Genoa, hidden in the Caruggi (alleys): private tailors, workshops producing handmade shoes and bags and ethnic clothing. 41 of these have been listed on the "Genoa's Regional Register of Historic Shops". Deluxe Limo Italy welcomes you to find up about these places where time seems to have stopped. We will greet you with the most interesting information, detailed planning, top-notch English-speaking drivers and personal shoppers as well as brand new Mercedes vehicles for your shopping tours in Genoa.
Fancy Shopping on Your Shopping Tour in Genoa
During the mid-19th century the city takes on a completely new appearance when it becomes a part of the Savoy Kingdom. Large streets lined with elegant buildings for the city's upper and middle class were built outside the historic centre: Via XX Settembre, Via XXV Aprile, Via Roma and the so-called "quadrangle" between Via XX Settembre and the sea. You will find the major international clothing brands and designer goods and shoes in these stunning streets nowadays. And the best designer boutiques are waiting in the Galleria Mazzini. Let Deluxe Limo Italy help you arrange the greatest Shopping Tours in Genoa, with knowledge and style!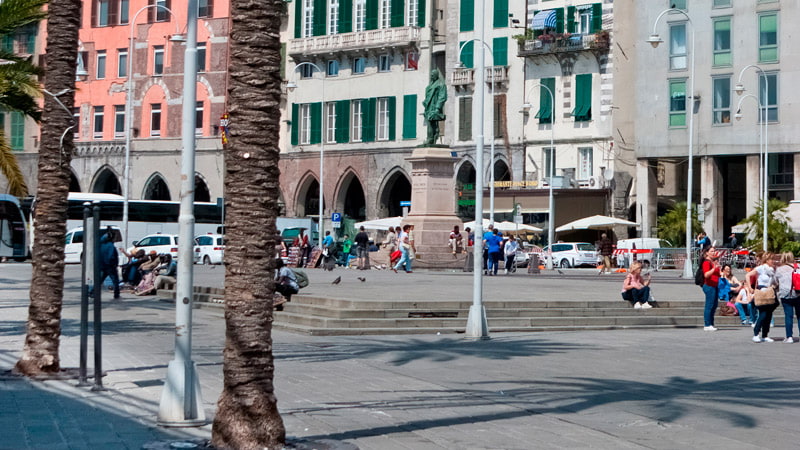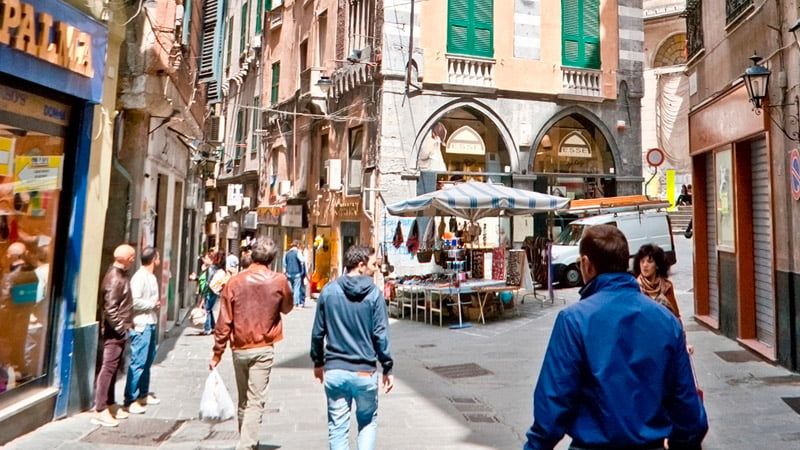 Aesthetic and Variety on Your Genoa Shopping Tour
Grab the opportunity to admire beautiful palaces which have been inscribed in the list of the Unesco World Heritage Sites while enjoying shopping throughout the Historic Centre of Genoa. Fashion shopping in local boutiques or food and art shopping in places like Bandeta, where flavors and tastes are mixed with Art souvenirs to bring back home. And why not to stop at the Viganotti or Pietro Romanengo chocolate shops founded over 130 years ago where you will feel like if nothing has changed since then. And if handicraft Art is your passion, L'Aria del Mare could fill your home with gorgeous handmade objects.
Your Shopping Tour Wish is Our Challenge
The highly professional team of Deluxe Limo Italy will follow you from top to end in understanding and planning your unforgettable Shopping Tour in Genoa.
Are you keen on focusing your attention on the elegant "quadrangle" area with its famous streets? Would you prefer a blast from the past in the Historic Old Town where the noble families decided to have their stunning palaces built during the Renaissance period? Or would you just love to mix these opportunities together with the visit at the western shopping centre area of the city and the Gold Street (Via Orefici) where you'll be surrounded by jewellers dealing with gold just like in the Middle Ages? Allow us to provide you with the best!
You may also like:
Florence car service
Milan limousine service
Chauffeur-driven cars in Italy: Why you need it

Testimonials
I just wish to send this message to you to let you know that we had a blast today in Rome with our driver and our guide! We are very very pleased with your service and would be more than happy to spread out the words for your company in any way that I may!

Miami

I just wanted to thank you for all your help. Your company far exceeded our expectations! Every single aspect of our trip was stress free and so much fun! 23 days is a long time and there was not a single tour or transfer that we didn't enjoy.

London

I am speechless of how wonderful our trip was. Honestly it was the best experience of our lives. We can't wait to go back! I cannot thank you enough for all that you did to make our vacation the most luxurious and smooth trip of our lives!

New York

I am writing to you to thank you for making our trip such a memorable one. We are talking of it all the time! It was your resources and guidance that gave us an in-depth insight into your rich country in terms of history, architecture, good food etc. The driver / guides, the guides etc. were all superb. We are ready to turn right back to Italy!

Los Angeles
Tripadvisor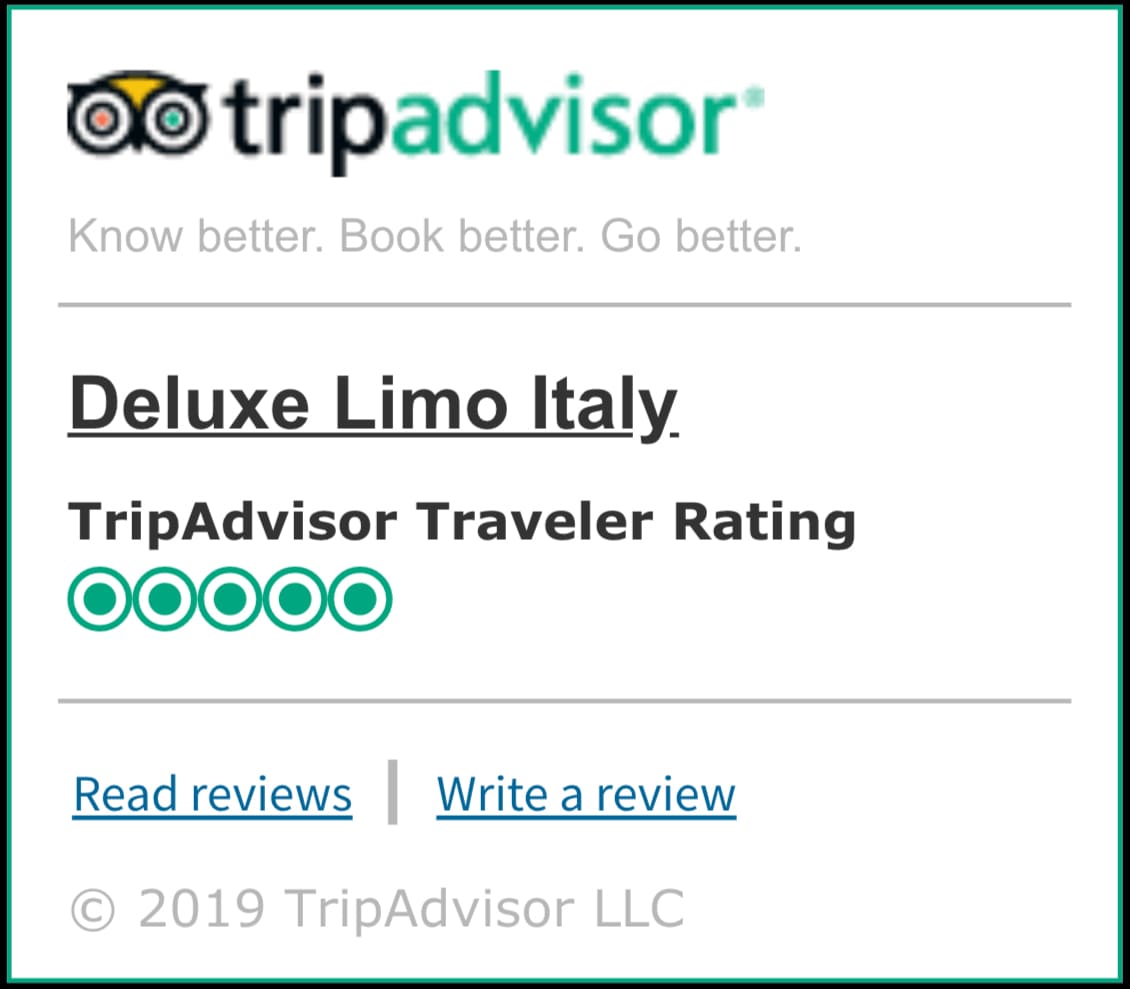 Why choose our Limousine service
Our mission is to provide unparalleled travelling experiences by combining reliability, precision and efficiency with the typical Italian passion, creativity and insight. With 25 years' experience in the travel industry, we observed the performance of over 350 chauffeur companies in Italy and partnered with those that demonstrated very high service standards. When the array of ideal affiliates was completed, Deluxe Limo Italy was finally launched. Our Limousine service network covers the totality of the Italian territory from the Alps to the "tip of the boot" and arranges private driver services in every main city of Italy as well as at every airport. On the contrary of the current trend "go global", we dedicated our energy to specialize in operating exclusively in Italy where logistics and business approach greatly differ from region to region, so as to offer top level service to our customers throughout the whole country.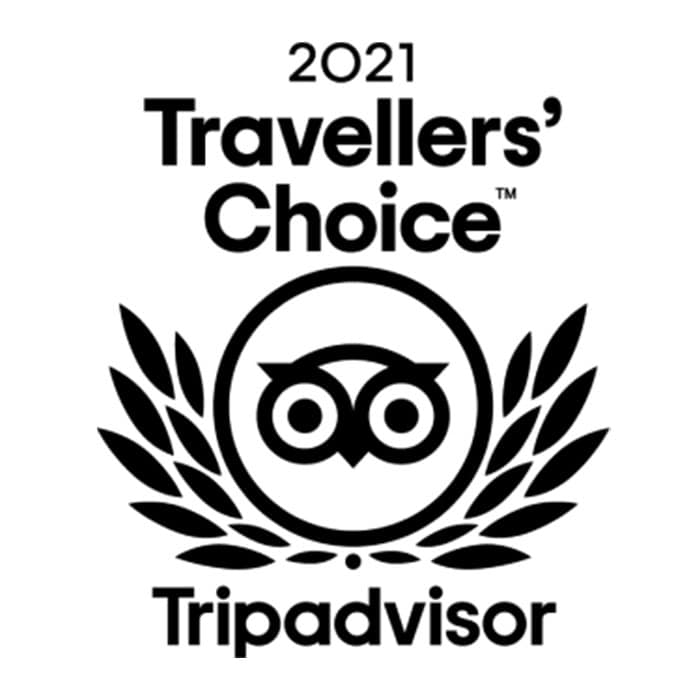 DESIGN YOUR PERFECT ITINERARY WITH DELUXE LIMO ITALY TRAVEL TEAM