Chauffeur driven tours in Tuscany
Undoubtedly, Tuscany is the most popular Italian region among tourists. One can enjoy a chauffeur driven tour in Tuscany in romantic towns with rolling hills, observe medieval buildings and castles, experience the breathtaking landscapes and fields. We invite you to walk among the freshly blooming sunflowers, smell the air in the fairy olive groves, find yourself lost in the majestic vineyards and old wineries where they've preserved the best family wine traditions. The Italian locals take pride in their recipes as they create fabulous cuisine, which invigorates even the novice taste buds. Many can't resist that first bite of freshly baked bruschettas, sprinkled with olive oil, or the delicious cheese along with mouthwatering pasta, or pizza. Top it off with incredibly tempting truffles and world famous gelato. Isn't it enough? We're just getting started!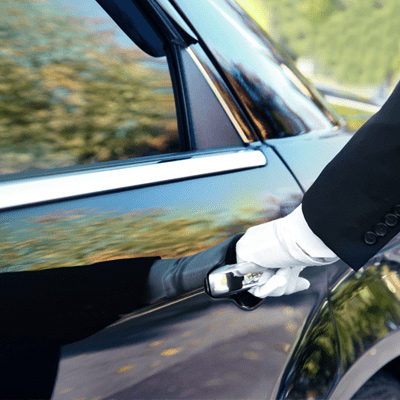 Chauffeured Tours in Tuscany with Us
Book one of our chauffeured Tuscany tours and receive an authentic, inclusive traveling and tourist experience. Our professionals can take you to the most captivating cities. Your customized tour in this region should be among the cities, and villages in your list of interests: Florence, Siena, San Gimignano, Pisa, and Lucca. Cozy villages stretch on all sides of the beautiful land of Italy. The flavorful, colorful vineyards and olive groves can magically sweep you away.
Are you craving a non-stress vacation in Italy? Book a private driver  or a driver guide with our travel team to bring an extra special and unforgettable experience to your vacation. Your chauffeur will always be punctual, very attentive, and caring so you can focus on what really counts.
If you are one who prefers having maximum satisfaction from sightseeing, food, and wine tasting, you should book your driver guide exclusively, who'll accompany you during the whole tour taking you to the best places. You'll experience the most exciting excursions discovering many interesting details about Tuscany, (better than any encyclopedia)
Wine Tasting on Your Tuscany Chauffeured Tour
One great attraction is the Chianti wines in Tuscany. Our professional chauffeur will pick you up at any place you need, and take you to the best Tuscany wineries. On the way to Chianti, you'll enjoy unforgettable green landscapes, flowered fields scattered around olive groves and vineyards.
The Chianti area allows you to breath freely as you think about the opportunity of seeing 450 wineries (if you can), and 70 different castles. There are many old and antique farmhouses as well.
Our drivers will always take you to the best wineries with the oldest cellars where they age wine the best. Learn about the varied wines, and try the prosciutto, artisan cheeses, Italian breads, high-quality extra virgin olive oil, and more!
Our hard working team offers different types of chauffeur driven tours in Tuscany. If you're looking for that one special vacation that is perfect for you, Deluxe Limo Italy is that one-of-a-kind company. You tell us what you want, how you want it, and anything else that will make your trip memorable, and we will create the vacation and itinerary for you. Contact us for more information, and we'll make it happen.
You may also like:
Tuscany limo service
Car service in Italy
Tuscany private driver
Private driver in Florence
Testimonials
I just wish to send this message to you to let you know that we had a blast today in Rome with our driver and our guide! We are very very pleased with your service and would be more than happy to spread out the words for your company in any way that I may!

Miami

I just wanted to thank you for all your help. Your company far exceeded our expectations! Every single aspect of our trip was stress free and so much fun! 23 days is a long time and there was not a single tour or transfer that we didn't enjoy.

London

I am speechless of how wonderful our trip was. Honestly it was the best experience of our lives. We can't wait to go back! I cannot thank you enough for all that you did to make our vacation the most luxurious and smooth trip of our lives!

New York

I am writing to you to thank you for making our trip such a memorable one. We are talking of it all the time! It was your resources and guidance that gave us an in-depth insight into your rich country in terms of history, architecture, good food etc. The driver / guides, the guides etc. were all superb. We are ready to turn right back to Italy!

Los Angeles
Tripadvisor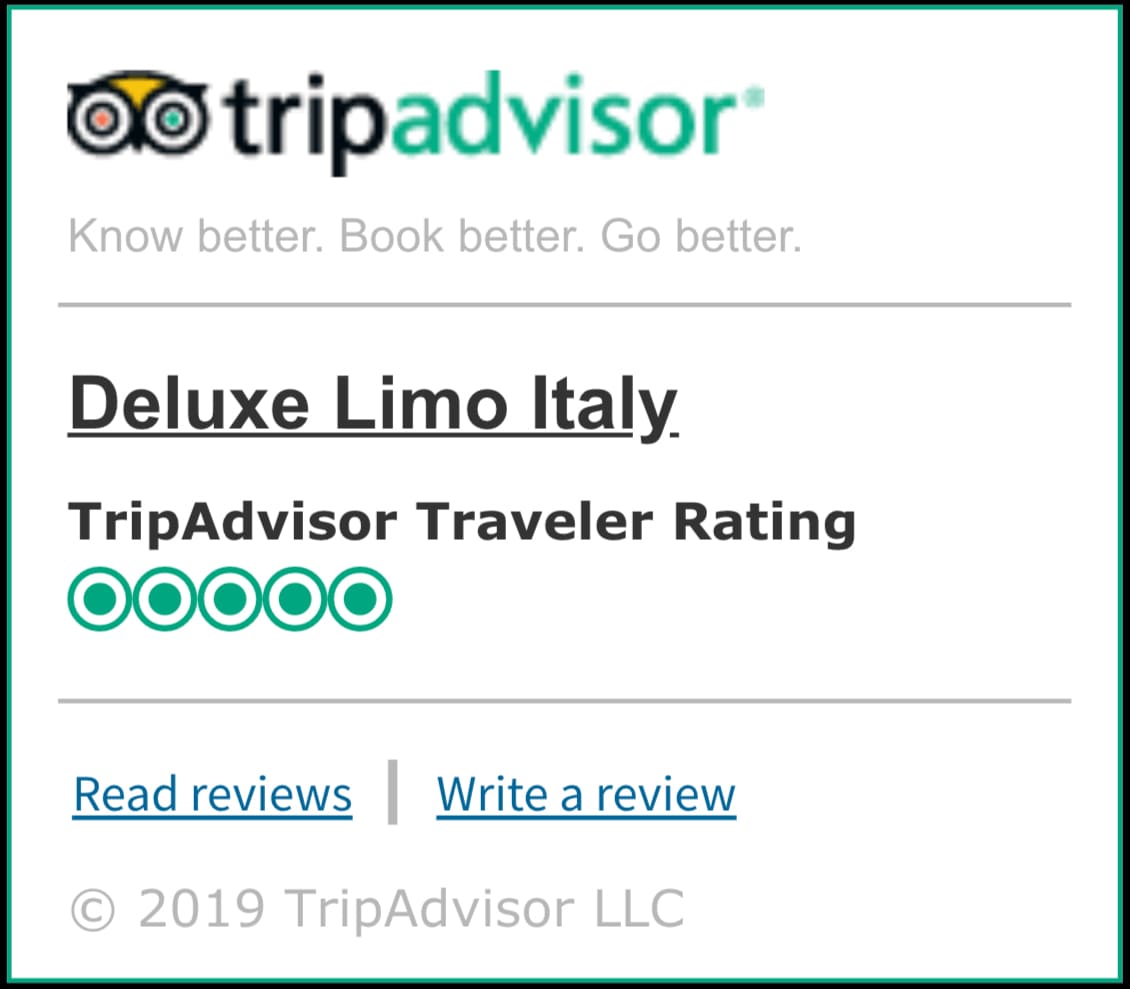 Why choose our Limousine service
Our mission is to provide unparalleled travelling experiences by combining reliability, precision and efficiency with the typical Italian passion, creativity and insight. With 25 years' experience in the travel industry, we observed the performance of over 350 chauffeur companies in Italy and partnered with those that demonstrated very high service standards. When the array of ideal affiliates was completed, Deluxe Limo Italy was finally launched. Our Limousine service network covers the totality of the Italian territory from the Alps to the "tip of the boot" and arranges private driver services in every main city of Italy as well as at every airport. On the contrary of the current trend "go global", we dedicated our energy to specialize in operating exclusively in Italy where logistics and business approach greatly differ from region to region, so as to offer top level service to our customers throughout the whole country.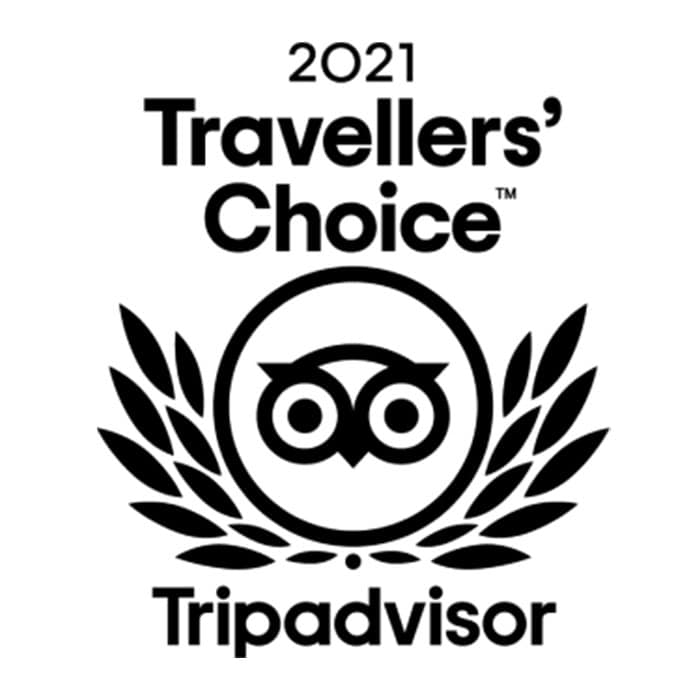 DESIGN YOUR PERFECT ITINERARY WITH DELUXE LIMO ITALY TRAVEL TEAM